How Prudential streamlined property management and saved their clients thousands
Rent arrears: A great challenge for landlords, an equal headache for property managers.
When it comes to a tenant not paying up, it can be difficult to absolve a genuine hardship or change in circumstances with the need to draw in a stable rental return.
But with vigilant planning and a proactive strategy at Prudential Real Estate, we've managed to achieve consistently lower rent arrears, in addition to reduced vacancy rates and days vacant – potentially our greatest leap forward in property management.
So what's our secret to success?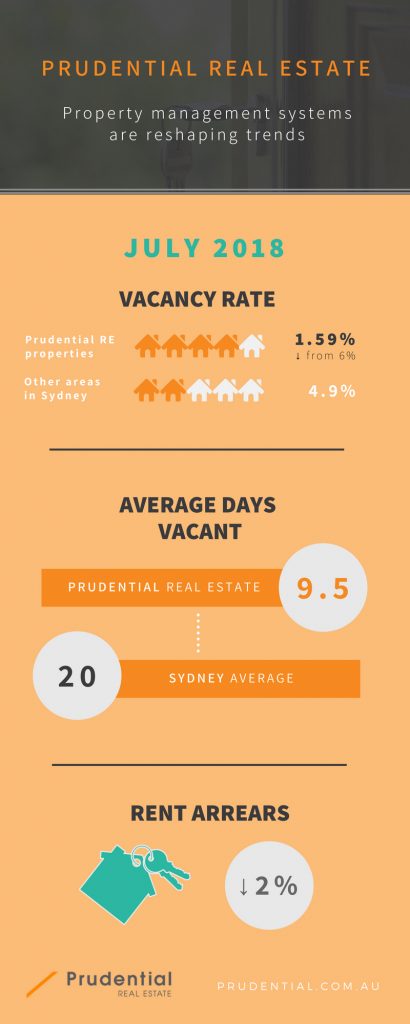 Reviewing procedures to maximise productivity.
If time is the key to unlocking work efficiency, then office methods and procedures are the door. With more time, our property managers would have greater capacity to identify and resolve tenancy and rent arrears issues.
Given this, we made changes to actively reduce the burden of admin by outsourcing late payment notification systems, resulting in a much greater consistency of overdue rent reminders sent to tenants.
With more time spent on client relationships, it was soon realised that a flexible payments approach was needed to help tenants met by transaction-related issues, as opposed to forgetting to pay their rent. Direct Debit is the only free method we offer to pay rent; so by adjusting due dates and offering a one-off opportunity to pay outstanding rent via Eftpos, this obstacle has been eliminated, and our rent arrears significantly reduced.
A dedicated leasing team.
Property management success starts with a client-focused approach, which is why Prudential Real Estate introduced a dedicated team of leasing specialists to concentrate on tenants full-time.
This has proven an advantage to our customer service by increasing our capacity to accommodate private appointments, to respond to tenant needs and to ensure that they are well looked after, as well as attending to and updating our internal systems.
Want to learn how Prudential Real Estate's innovative Property Management team can help you secure the best return on your dollars? Contact us today!
Call us on (02) 4628 0033 or email via campbelltown@prudential.com.au.