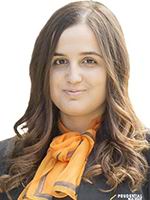 Property Manager - Assistant Agent
Melissa has lived in the Liverpool area her whole life and, with a background in fashion wholesale, started her career in real estate as a receptionist before moving into property management.
Managing ingoing, outgoing and routine inspections as well as coordinating repairs and maintenance, Melissa loves working at Prudential Real Estate, where two days are never the same!
In her spare time, Melissa enjoys reading up on history, researching interior design ideas for her first home, which she is building at the moment, and she has aspirations to travel the world.