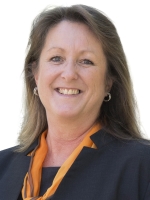 Debra Brown stumbled across a role within the real estate industry as Prudential Real Estate Liverpool's receptionist. A redundancy from her last role meant she was looking for a job that offered a variety of experiences within a great team environment.
With years of experience managing a family-owned business, Debra brings excellent time management, interpersonal skills and an ability to understand clients and their needs while assisting the Prudential Real Estate team at Liverpool.
"My interest in the real estate industry continually grows as I learn more and more about the industry," she says.
"We have an amazing team at Prudential Real Estate Liverpool and I love the variety of work."
When Debra isn't busy assisting the team at Prudential Real Estate Liverpool and their host of clients, she can be found indulging in a wide range of hobbies including quilting, water sports and motorbike riding.