Bradbury, located 54 km south-west of the Sydney CBD, is part of the local government area of the city of Campbelltown and is in the Macarthur region.
Residential development started in the 1960s and today Bradbury is considered one of the more established suburbs of Campbelltown with large houses and backyards. It is a leafy suburb with most streets lined with native trees.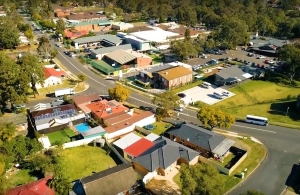 This suburb is ideal for families with kids, retirees, professionals and singles as it offers good public transport, schools, parks and reserves, sports and recreational facilities, dining and shopping. Country lovers will enjoy Bradbury's lush greenery and abundance of bird life.
Although there is no train station within the suburb, Campbelltown and Macarthur stations are just a quick drive away. With all these amenities at your fingertips and in close proximity to Campbelltown CBD, Bradbury is a great choice for families and those who commute to Sydney by train.
Population quick facts
Total population: 8,800
Number of families: 2,409
Top age groups and lifestyles: Older couples and families, and established couples and families
*Data based on the Census 2016.
Property statistics
Median rent: $400 per week
Median property price: $585,000
Top dwelling structure: Separate house
Average bedrooms per property: 3.3
Places of interest and local attractions
Apex Park
Bradbury Pools
Bradbury Oval